On Wakfu, there are four nations and each of them has its own story, as well as unique bonuses and monsters. Below, you will find a small overview of the four nations! Choosing a nation means first of all knowing the differences between them. Only these differences can define a better nation than another. In absolute terms, you can't say that Bonta is better than Brâkmar, it all depends on what you compare it to.
Also, be aware that choosing a nation comes with rights and duties, and if you don't follow the laws you may well find yourself in jail.
---
1 – CONTENTS OF A NATION
Each Nation therefore has its own identity and its share of particularities:
---
1.1 – TRANSPORTATION
Various transportation options within the Nations allow you to navigate in and out of them. More information can be found in the guide Transports.

---
1.2 – THE PHENIXES
The phoenixes are only present in the centre of the Capitals of each Nation. After a death, the characters are transferred to the phoenix of their Nation (if they do not have a nation, they are transferred to the phoenix of Astrub).
Tip: Phoenixes are visible from your map with this token:

They are located near the Zaaps and the Drago-Express in order to make it possible to return to the site after a death within a reasonable time.
---
1.3 – THE CRAFT WORKSHOPS
They are all clustered in the Capitals. As with the phoenixes and the Haven-trees, the Capitals give the players much more opportunity to go and spend time there.
Tip: Craft Workshops are visible from your map with this token: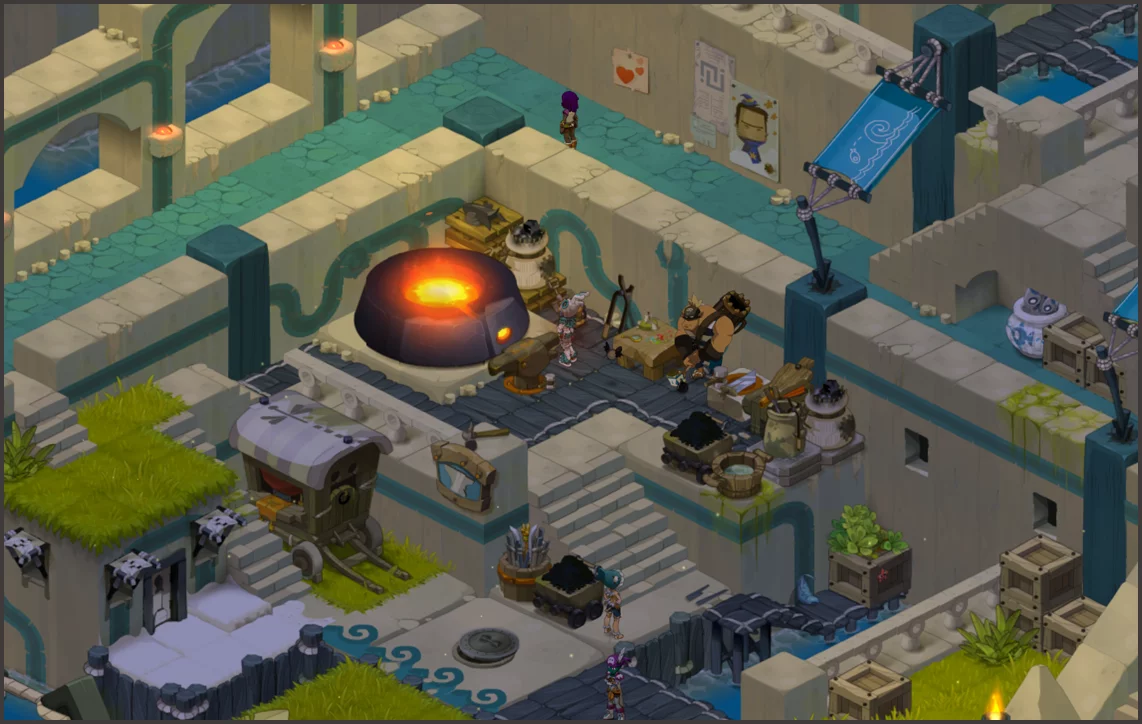 ---
1.4 – THE HAVEN-TREE
Since update 1.62 the access to the Haven-Worlds has been improved with an access point (called Haven-Tree) present in the center of each of the 4 capitals.
Tip: Haven Trees are visible from your map with this token: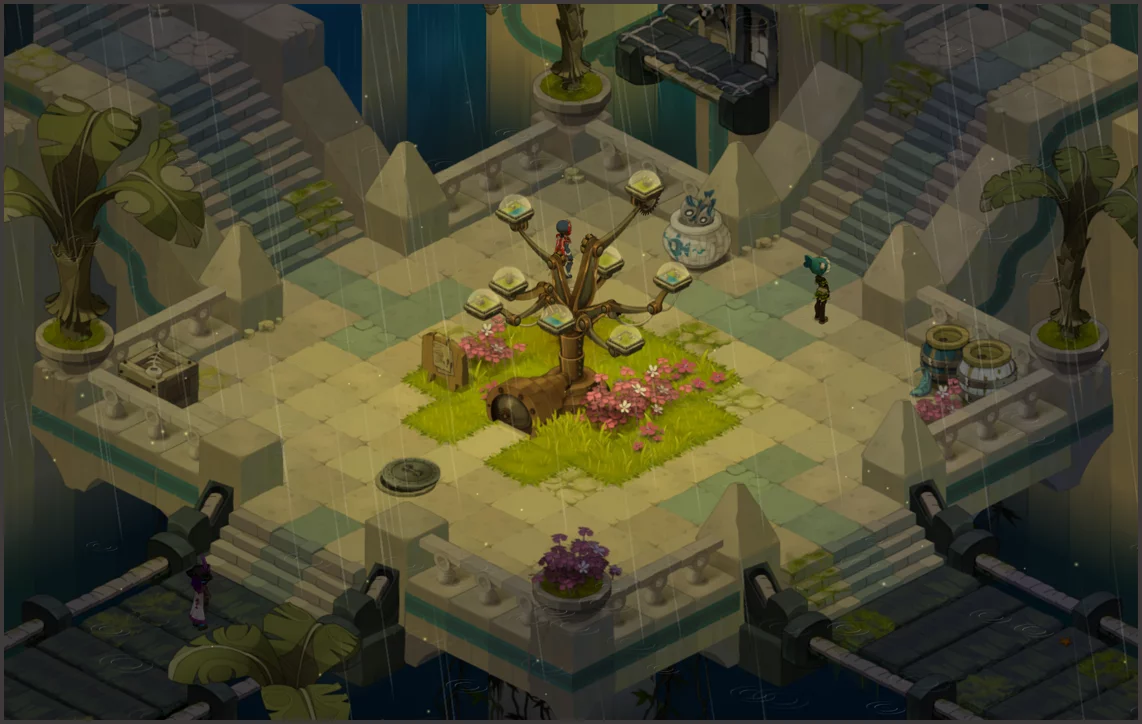 ---
1.5 – ADMINISTRATIVE QUARTERS
The interactive elements to create a Guild are grouped together in the same place as the Enchantment Table.
Tip: Administrative quarters are visible from your map with this token: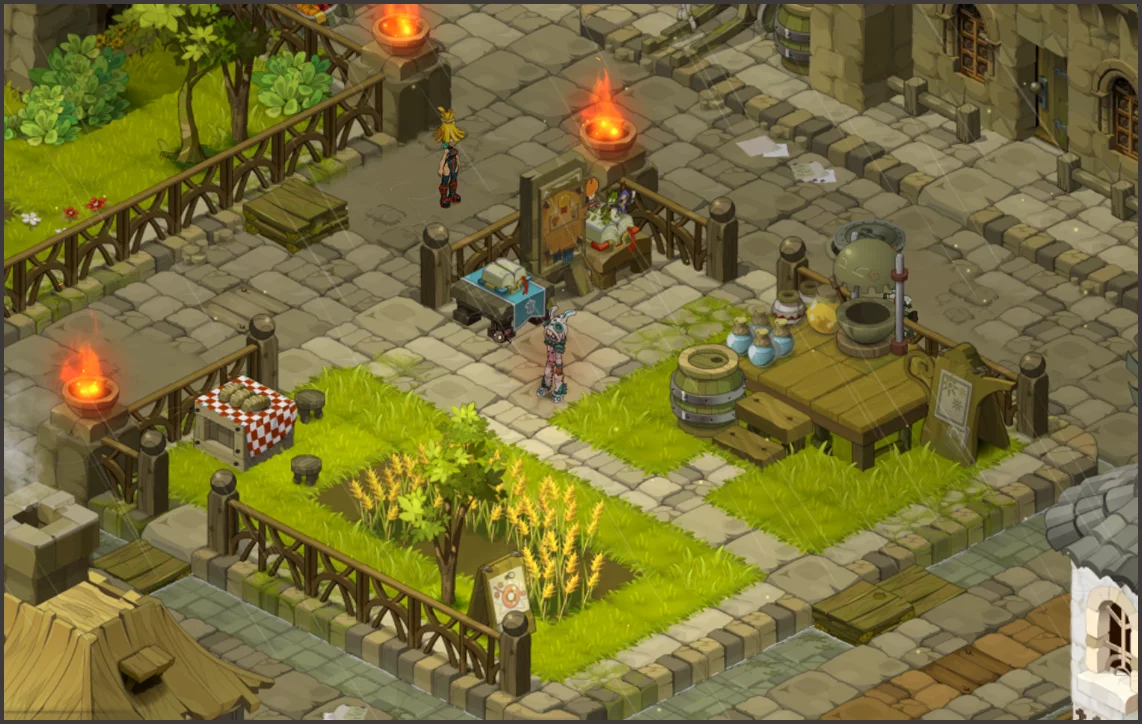 ---
1.6 – OTOMAI'S DISCIPLES, MERCENARY COUNTERS AND ENVIRONMENTAL QUESTS
Different quests are available in the Nations as well as other areas of the game to get more rewards and xp!
To learn more, do not hesitate to consult our guides on these different ways to get XP and rewards.
---
2 – CHOOSING YOUR NATION
As soon as you arrive at Astrub, with your hard-earned level 15 in your pocket, you are asked to make your first big choice : you must choose your nation on the board near BossOwl!
Tip: Bossowl is the Clan Leader of this area, he is indicated by a yellow star on your map.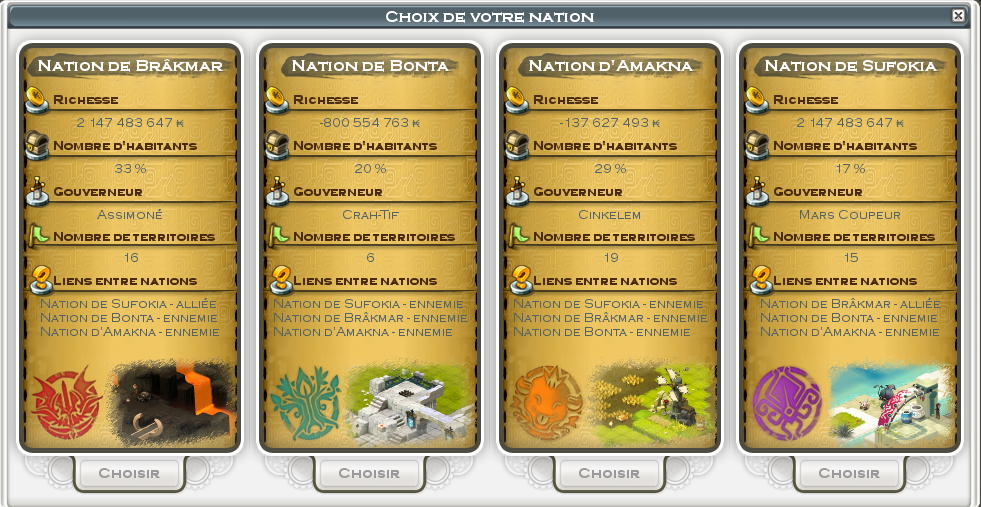 Note : Be aware that this choice is not final, in fact if you wish you can change the nation.
There is currently only one way to do this:
Via Master Bossowl, who will propose you to become neutral again in order to choose another Nation. This change is possible, in exchange for a certain amount of Kamas depending on your lvl. (Beware, you will have to wait 30 days before you can repeat this operation).

Level 50 and less: 5,000 Kamas
Level 51 to 100: 5,000 Kamas
Level 101 to 150: 5,000 Kamas
Level 151 and above: 100,000 Kamas
Tip : Your citizen points will be reset during this process.
---
3 – DETAILS ABOUT THE FOUR NATIONS
To simplify the task for you, we put below the details and the differences of each of the four Nations in order to make a choice or to see the potentials for you to have fun!
3.1 – AMAKNA
---
3.2 – BONTA

---
3.3 – BRÂKMAR

---
3.4 – SUFOKIA

---
What about you? Which Nation did you choose?