1 – The Sidekicks
Your group represents all the characters you have, heroes and sidekicks. Its level, calculated from the characters' level, marks your general investment in the game.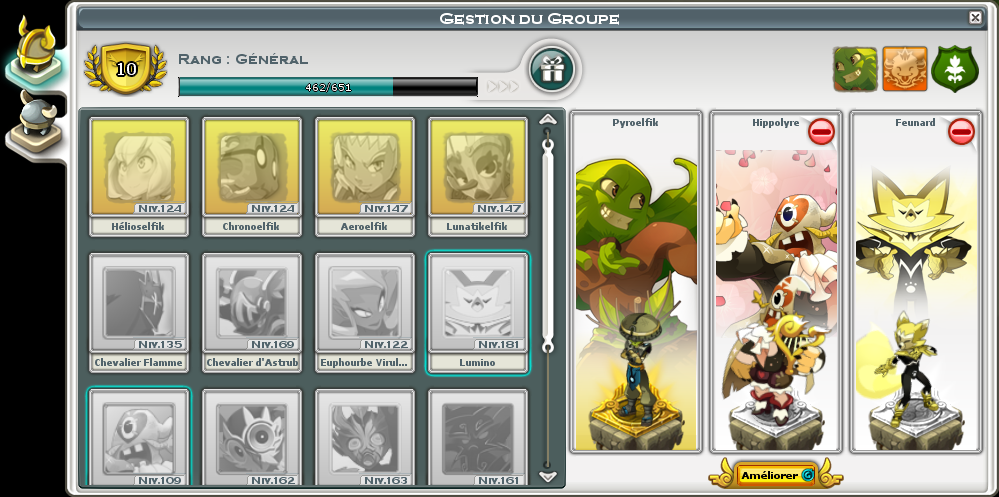 The management interface is accessible from the menu or the K key (by default). It is from this interface that you can manage your game group by adding heroes or sidekicks. You can play up to three characters at the same time, a group leader who is the player character you are logged in with, plus two heroes or two sidekicks or one of each.
As your troop evolves, you will gain access to various rewards such as special attitudes or costumes.
---
1.1 – THE HEROES

Heroes are player characters, just like the group leader. They have their own equipment, their own inventory, follow their own quests, their own achievements.
In order to join your group, your heroes must be from the same nation and guild (or no guild) as your group leader and your account must have an active Booster. A main character without a guild cannot invite heroes from a guild.
Once added as a group, it is possible to switch one of the heroes as an active character using the shortcut keys indicated (by default, T, Y and U). This can be useful to manage some character specific actions such as managing his haven-bag, his auction house, some quests.
Heroes' inventories can be managed without having to switch to that character. Simply open the inventory and click and drag the hero's tab to an empty area to open their personal inventory. You can then drag items from one inventory to another.
Note : Characters of lower level than the highest level character in the account have a bonus XP multiplier of 2 or 3. This bonus is also active when these characters are added as heroes to your group.
---
1.2 – THE SIDEKICKS

Sidekicks are special characters that you can call upon to help you in battle. Unlike heroes, you do not need an active booster pack to add them to your party. They do not have an inventory and do not participate in quests, nor can they play as a main character. Their fighting style is much simpler than that of a hero, with each sidekick having its own style.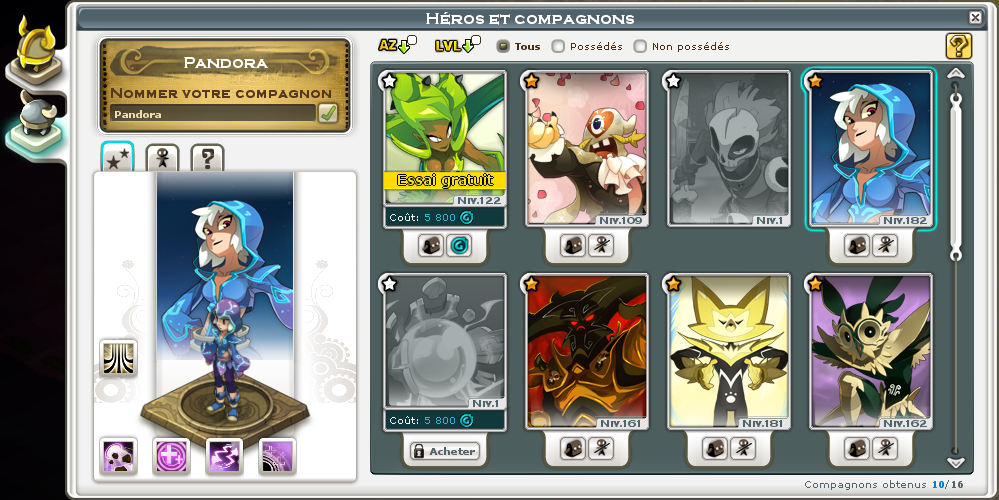 You will meet some sidekicks during your adventure, like the Astrub Knight, at low level (Quest : We must save the Astrub Knight). The other sidekicks (Multimans, Black Knights, etc.) can be purchased in the store or in the market.
Each week, a random sidekick is offered for free to try out. You can use it as much as you want in battle. His experience is kept between two weeks of trials.
They gain 1.5 times the XP obtained by the group leader, but cannot exceed his own level. A sidekick who is higher level than the active character will have his level reduced and will not gain XP during the game session. Sidekicks can also get XP from environmental quests, even if they do not have the minimum level required.
A future article will go into more detail about the functioning of the Sidekicks and the fighting style of each of them.
---
2 – TROUPE LEVEL
The troupe level is calculated from the level of all the heroes on the game server and the level of the sidekicks owned.
Each hero character earns 3 experience points per level, and each sidekick earns 1 experience point per level.
Example: You have 3 characters, respectively level 50, 100 and 150 and 2 sidekicks, level 25 and 75.
The calculation will be ((350) + (3100) + (3*150)) + (25 + 75) = 1000 troupe experience points. That is to say, a troupe of rank 5!
A few additional notes:
The level of a free trial Sidekick of the week, if not owned, is not counted in the total.
If you delete a character or return a Sidekick to your inventory, your rank will be recalculated and lowered.
The rank of your troupe remains the same whether you are under booster or not, regardless of the guild or nation of the different characters.
| Rank | Grade | Level of experience |
| --- | --- | --- |
| 1 | Groom | 1 to 180 |
| 2 | Squire | 181 to 300 |
| 3 | Apprentice | 301 to 500 |
| 4 | Disciple | 501 to 800 |
| 5 | Sergent | 801 to 1200 |
| 6 | Lieutenant | 1201 to 1700 |
| 7 | Officer | 1701 to 2200 |
| 8 | Instructor | 2201 to 2750 |
| 9 | Corporal | 2751 to 3350 |
| 10 | General | 3351 to 4000 |
| 11 | Marshal | 4001 and above |
Tip: To calculate how many levels all your heroes, not including sidekicks, need to achieve a certain rank and associated rewards, do the following calculation:
(XP of the target level) – (current XP) / 3 / (number of characters to train) = Number of levels to obtain per character.
Example : I have 4 characters, my troupe XP is currently 601, I want to get level 6.
(1201 – 601) / 3 / 4 = 200 / 4 = 50
I need to gain a total of 200 levels, each of my heroes needs to gain 50 levels.
---
3 – REWARDS
There are rewards to be obtained up to level 10 of your troupe: titles, attitudes, costumes, and mounts. They are accessible from the troupe interface.