A guild is above all a gathering of adventurers sharing things, be it goals, values, connection times or just the coffee machine in the Guild Hall.
Endowed with specific rules (or not) and privileges (or not), it is generally governed by a hierarchical organization, and allows its members to:
Help each other through the intricacies of the game
To trade or barter
Achieve unachievable goals alone
Have a sense of belonging, even prestige
or just have fun with friends!
---
1 – THE DIFFERENT GUILDS
No two guilds are the same. Each has its own rules and its own vision of the game, but we can distinguish several recurring guild "profiles". Obviously, many guilds mix several of these profiles.

---

---

---

---

---
2 – CREATING A GUILD

To create a guild you need three main ingredients: friends, patience and organization. Many have tried it by forgetting one of these elements. The result has been disappointing at best, most often catastrophic.
If, unfortunately, you are missing any of these items, we recommend that you seek to join a guild rather than creating one. On the other hand, if you are sufficiently prepared, then all you have to do is go to the Administrative District of your Nation, a place known to all, to activate the Guild'o matic!

Astrub : Very close to this Guild'o matic is the Guild Bank, which we will discuss in more detail later.

---
2.1 – THE DIFFERENT INTERACTIVE CONTENT RELATING TO THE GUILDS

---
Depending on the improvements unlocked with Guild Points (see below), you can collect these items:
This table will give you a "ranking" of the guilds, according to the total points collected since the beginning of this system. This will give you an idea of the most active guilds or your position on the server.
That's what interests us here! This workshop will allow you to create your own guild.
---
2.2 – CREATION
To create your guild, you need:
Buy / drop a Guildalogem, or get it for free through an achievement.
Astrub :To get this stone for free, you must complete the feat "The Right Stuff" which will require you to complete several missions on Astrub.
---
You are now facing your destiny. Find a name, create your Coat of Arms and choose your colors wisely, because this standard will be "the showcase" of your guild!
---
3 – MANAGE A GUILD

We may be a happy bunch of pals, without an organization, the guild risks quickly turning into the community equivalent of a black pudding fair. A lot of screaming, a lot of blood and not necessarily a terrible result.
Fortunately, you will have essential tools at your disposal to better manage your new community.
---
3.1 – GUILD INTERFACE
The Guild Interface has its share of choices and possible actions depending on your rights. The creator of the guild is automatically granted the highest rank, which grants access to all features.
Open the guild window in the "Community" menu of your interface or directly press the "G" key. Thanks to this interface, you can invite new players to join you, promote members to different ranks or even dissolve the guild. From the different tabs on the left, you can also launch your guild quests, manage your guild points and upgrades, or view your Haven-World information if you have one.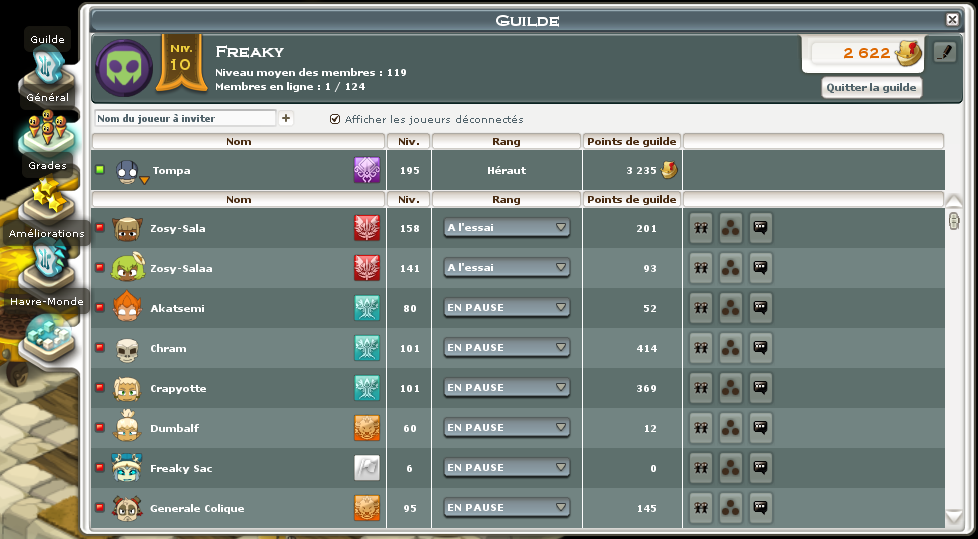 The advancement of your guild, and therefore the benefits it provides you, depends entirely on your investment. This is because each upgrade will cost you a certain number of guild points, which you can get in different ways: daily quests and PvM.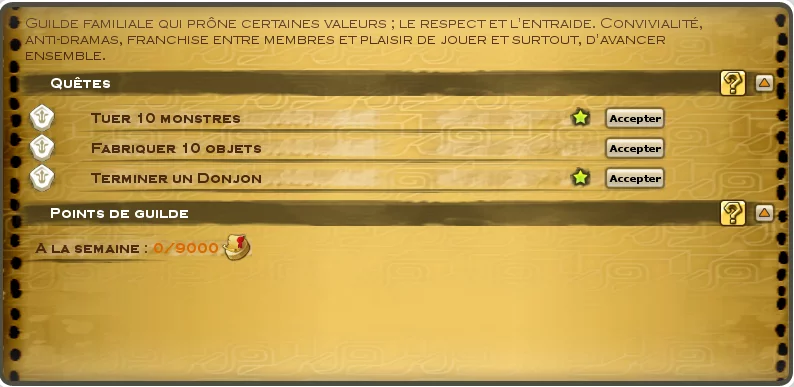 To accumulate GP, 3 daily quests achievable in solo are at your disposal to collect points:
Kill 10 monsters (15 pts),
Craft 10 items (15 pts),
Complete a Dungeon (20 pts).
These quests must be activated manually if you want to get the rewards, an hourglass will then appear next to the quests in progress. Once completed, a star replaces the hourglass until the following day.
Guild Points earned are limited to the week and can be earned by:
Completing a guild quest
Killing a dungeon boss (depending on his level: 16 pts / Boss & per person)
Being the winner of a fight: (2 pts / people)
PvM battles will also give you points, as long as there are at least two guild members in the fight.
By default, only 7,500 guild points per week can be regained, but an upgrade increases this limit to 9,000.
Note: The counter resets to zero on Sunday evening at midnight
---
This tab is the one you will use by default every day.
It allows you to see the general information of your guild (Name, level, average level of members, points in reserve …), as well as information related to the players of your guild: nickname, class, nation, level, rank and points reported since their recruitment. You will also be able to see their last connection date by hovering over their nickname.
Finally, for players who have these rights, it is from this tab that you can recruit a member, assign him a rank or dismiss him from the guild.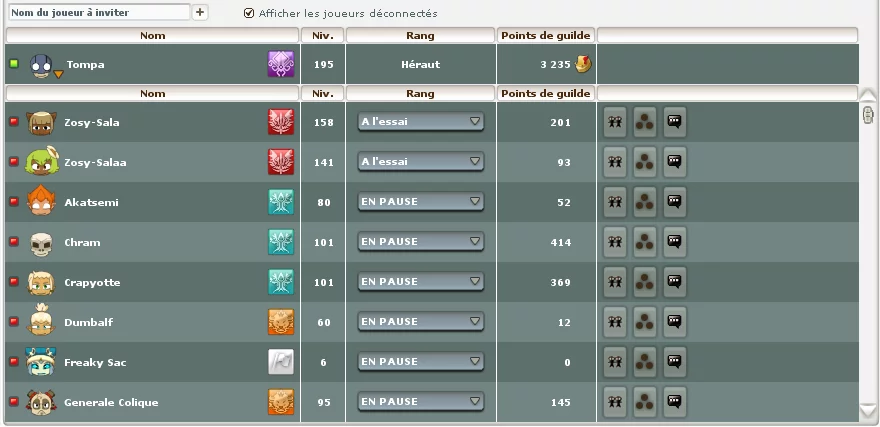 Guild Message and Guild Description
You can write a guild message, which will display in the dedicated channel to keep all your guild members informed of the latest news every time you log in!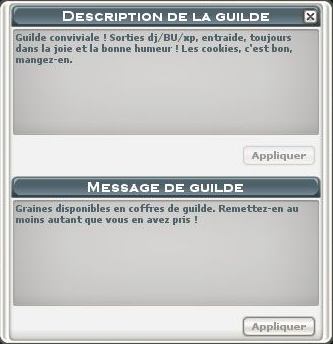 Through the same interface, you can also write a description of your corporation, which can be consulted on the guild board.

---
This is perhaps the most important tab for a Guild Leader and their right-hand men. This is where you will define the hierarchy you want to set up for your members and the rights that will be given to them in order to differentiate the roles of each in community life.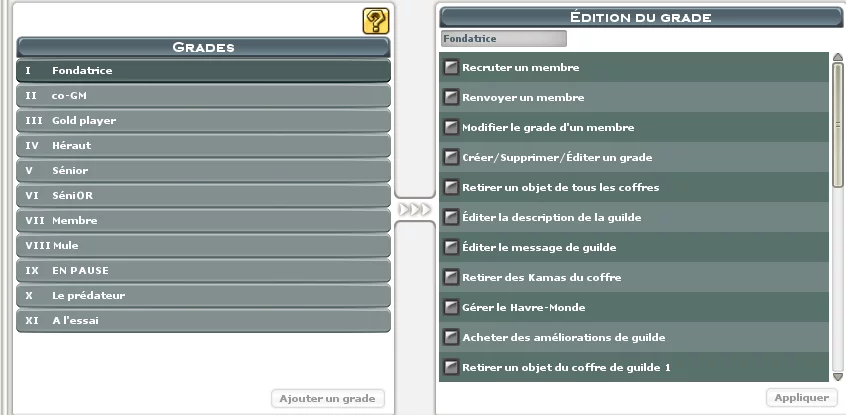 You can create up to 13 new ranks (for a total of 15 with Leader and the default recruit rank), name them and assign rights to them as you see fit. Then, simply assign these ranks to your members via the General tab.
The rank of Guild Leader (Grade I) is the only one that cannot be changed or removed. It can be forwarded to another member, but without their consent, you will not be able to retrieve it!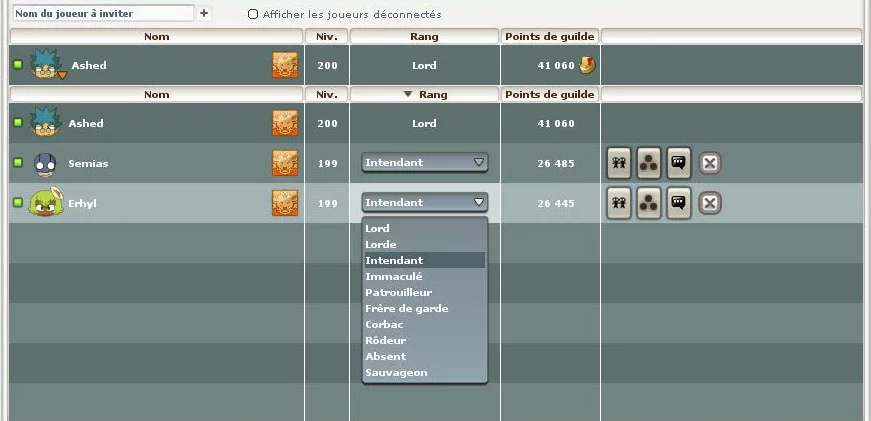 When granting rights to a member, be aware that they may act of their own free will against the guild if they intend to (thefts from chests, ejecting members, ransacking World Havens, etc.). ). Ankama unfortunately won't be able to do anything for you in these situations, so be sure of who you are giving privileges to.
It is also possible to assign the right to modify … the rights. The lucky few with this power will only be able to modify ranks strictly lower than theirs. This rule also applies to the allocation of ranks, as well as the right of dismissal of a member.
The most senior positions in guilds can be assigned to trusted and / or long-term members. Some guilds clearly explain the hierarchical evolution of its members according to the contribution made.
---
Amassing 7,500 or 9,000 guild points per week is all well and good, but you still have to know how to use them. To do this, go to the 4th tab.
In addition to the undeniable advantages of playing with a bunch of merry men, your guild can provide you with advantages that directly impact your power, or improve your playing comfort. Only the Guild Leader and / or members with the right to buy guild upgrades are affected by this tab.
Your hard-earned guild points will thus allow you to level up your guild in order to unlock new upgrades.
These improvements bring new possibilities to the development of the guild, and permanent or temporary bonuses to its members. By default, you can only unlock one upgrade at a time (unless the "2 learning at the same time" upgrade is acquired).
Tip: These upgrades cost a significant amount of guild points, but it's not too much of an investment if all members participate. It is not necessary to unlock all the upgrades available at level x to advance to the next x + 1.
Most upgrades are permanent and will give you stat bonuses or unlock cosmetic items in your guild colors, but some are temporary and can be researched multiple times. This is the case with level 10 Prospecting and Wisdom bonuses, which you can activate whenever you want for a period of 6 hours, provided you have researched them beforehand.
---
If you had the opportunity to acquire one of the Haven Worlds during an auction, you will have a 5th tab to manage as a Guild Leader. This tab will give you a global overview of your personal dimension. You will find here a summary of the buildings built or under construction (with the remaining time), as well as an estimate of the expenses made for its fitting out. For more information on HM, a Guide will soon be available in Haven-Worlds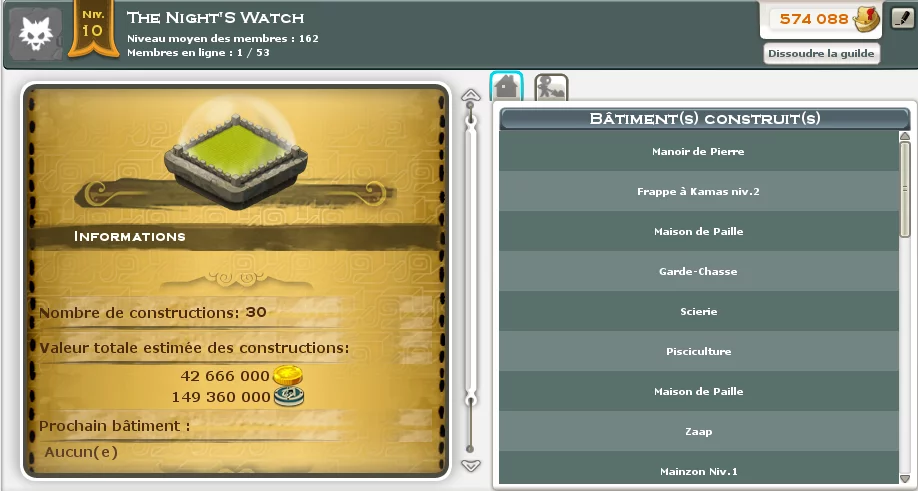 Note : Haven-worlds are purely cosmetic now.
---
3.2 – GUILD CHEST
One of the major interests of a guild is the additional storage it gives you, in addition to your personal bags and chests.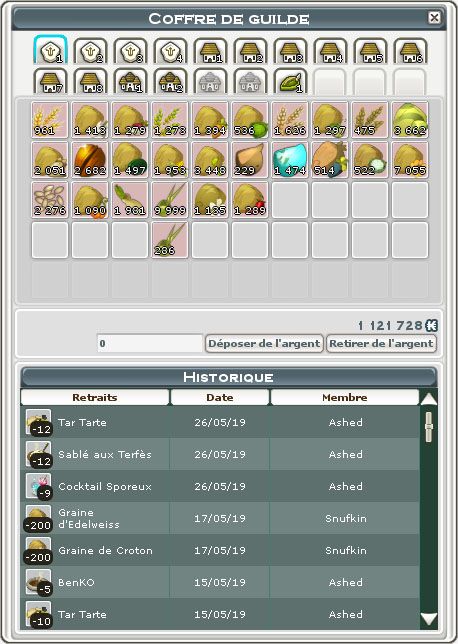 By default, all of your chests are locked when you create your guild. You will be able, thanks to improvements, to unlock 4 chests of 40 storage slots each. The Haven world also allows you to unlock additional storage, thanks to buildings such as houses and mansions.
Finally, be aware that any member of your guild can deposit items or kamas in the guild chest, but only members with special rights can remove them. These rights are in particular separated by safe and make it possible to limit the number of safe boxes accessible by grade.
---
3.3 – WITHIN YOUR GUILD
For discussions aimed at your guild, use the "Guild" channel or type / g before your text. No matter where they are, all logged in guild members will see your message!
In addition, each member will have a notification at the bottom of their screen during certain events. This concerns the recruitment of a player, his departure from the guild, or a change of rank, a guild improvement or the construction of a building in Haven-World …

Finally, you can authorize the members of your guild to access your Haven-Gems, via the Haven-Bag Permissions interface.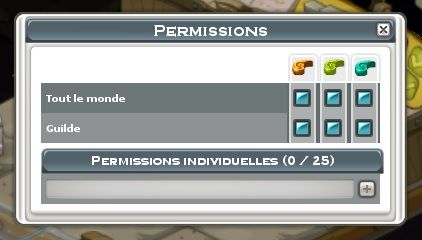 ---
3.4 – GOALS
There is no silver bullet to running a guild. The general mood, longevity, will depend above all on the personality of the members and the line of conduct of the ruling circle. Non-game tools (forum, vocal community spaces, etc.) can however strengthen the cohesion of members.
The most developed guilds often define charts of conduct (generally visible on their forum) which explain the rules and objectives of the community. Recruiting certain player profiles is also a very important part of guild management. It is therefore up to you, to manage these different aspects and to define the objectives of your guild to animate / motivate your troops!
---
4 – CHOOSE YOUR GUILD

---
There are different ways to join an existing guild, it will just depend on the guild's recruitment policy.
However, here are the points to take into account on the different criteria that a guild can ask for, to recruit you:
Your age
The maximum number of players in the guild
Your average level
The line of conduct, linked to aspects of the game and the charter defined by the guild
Mutual assistance provided
your personality
Your reputation
Your knowledge of the game
---
We note two ways of proceeding for recruitment:
By request to the leader or member of the guild, by interview or simply by boosting!
Note: As part of a massive recruitment of certain guilds, you may be invited without warning, or on the fly!
It is also to be taken into account and to remember, that the classification of the guilds makes it possible to choose the guild which you need.
On the Wakfu forum, or more specifically on the forum the guild has created or the discord server (if they exist).